Another couple months gone by means another couple months of new faces here at High Point Networks. Our team is always growing and looking for talented individuals to join us in providing the best service for our clients.
It's a Family Thing
At High Point Networks, we take pride in finding the best of the very best to represent our team. These past two months were no different. In March and April, 2020, we added four new members to the HPN family and what better way to get to know each of them than a quick Q&A.
WHAT IS YOUR HOMETOWN?
Brady: Fargo, ND
Jason: New York Mills, MN
Tyler: Bismarck, ND
Kora: Gary, SD
WHAT HPN OFFICE DO YOU WORK IN?
B: West Fargo, ND
J: Minneapolis, MN
T: Bismarck, ND
K: Sioux Falls, SD
WHERE DID YOU GO TO COLLEGE?
B: NDSU
J: Minnesota State Community & Technical College
T: Bismarck State College
K: South Dakota State University
WHO OR WHAT INSPIRES YOU?
B: The never-ending quest for knowledge.
J: Other people.
T: Brian Bensen just because we are neighbors now.
K: My mom - her huge heart and sense of humor.
WHAT IS YOUR FAVORITE GENRE OF MUSIC?
B: Alternative Rock
J: 90's Rock
T: Depends on the week.
K: I can't just pick one. You'll find me listening to a little bit of everything!
WHY IS A TENNIS BALL FUZZY?
B: It was running late and didn't have time to shave.
J: The person that invented it wanted it to be fuzzy.
T: Well according to google... tennis balls are fuzzy because it gives the racket better grip on the ball so the ball gets a better spin.
K: To provide extra cushion when it smokes you out on the court.
WHAT IS YOUR FAVORITE TV SHOW?
B: The Office, Parks & Rec, & Breaking Bad (to name a few).
J: The Office
T: Not much for watching TV anymore.
K: New Girl
ROOM, DESK, AND CAR - WHICH DO YOU CLEAN FIRST?
B: Car, desk, then room.
J: If you don't let them get dirty, you don't have to clean them.
T: Car.
K: Whichever is the messiest.
IF YOU WERE A BRAND, WHAT WOULD BE YOUR MOTTO?
B: "Eh, you could probably do worse."
J: I would not have a motto.
T: ???
K: "Kill em' with kindness and excessive lame jokes."
HOW WOULD YOU GET AN ELEPHANT INTO A REFRIGERATOR?
B: Open the refrigerator, take out the giraffe, put in the elephant. Assuming the giraffe is already in there, of course.
J: Take out the beer.
T: How big is the refrigerator?
K: "Hey elephant, betcha can't fit into that refrigerator." The ball's in his court now.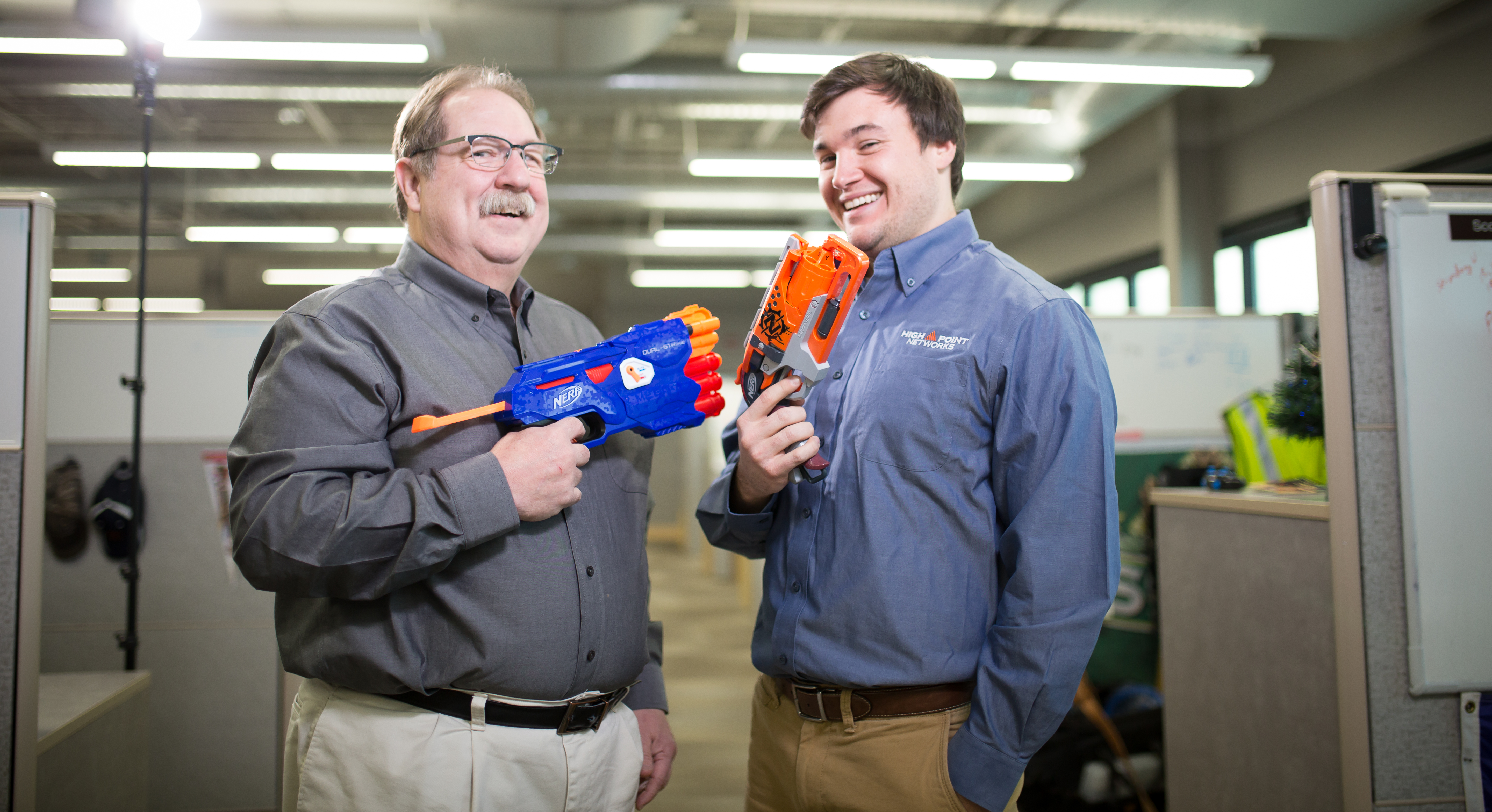 Join the #HPNTeam
If you or someone you know is interested in joining our team, head to our careers page to learn more about our open positions and what High Point Networks can do for you.