It doesn't seem possible but 2020 is almost over! We have added a few more awesome individuals to our HPN family over the last few months! Hanna Thompson joins us as a project manager out of our West Fargo, ND office, Greg McKillip joins us as a new Account Manager that will oversee our new Oklahoma territory, Jess Widmark joins our marketing team based in Sioux Falls, SD & Ashley Matelski joins our inside sales team, she will be working remotely from Brandon, FL! Our team is always growing and looking for talented individuals to join us in providing the best service for our clients.
It's a Family Thing
At High Point Networks, we take pride in finding the best of the very best to represent our team. The last half of 2020 was no different. We have added four new members to the HPN family and what better way to get to know each of them than a quick Q&A.
WHAT IS YOUR HOMETOWN?
Hanna: Grafton, ND
Greg: Tulsa, OK
Jess: Brandon, SD
Ashley: Sioux Falls, SD
WHAT HPN OFFICE DO YOU WORK IN?
H: West Fargo, ND
G: Remote out of Tulsa, OK
J: Sioux Falls, SD
A: Remote out of Brandon, FL
WHERE DID YOU GO TO COLLEGE?
H: North Dakota State University
G: Tulsa Community College
J: South Dakota State University
A: NA
WHO OR WHAT INSPIRES YOU?
H: My Family!
G: Teaching something to someone as well as learning a new skill or idea, I like information!
J: Anyone who stands up for what they believe in & fights for what they want!
A: Literally everything! If I see something not so great, it inspires me to do better or see it differently. If I see something great, it inspires me to reflect or just enjoy! Same with people!
WHAT IS YOUR FAVORITE GENRE OF MUSIC?
H: Pop/Singer-Songwriter
G: DubStep - keeps me motivated with the high BPM and deep BASS
J: Country all the way! Literally all I listen to.
A: Anything and everything...except Mariah Carey.
WHY IS A TENNIS BALL FUZZY?
H: I am guessing it has something to do with the speed, bounce, etc. of the ball but I am going to say they are fuzzy so they are soft for dogs to play with!
G: A tennis ball is fuzzy to keep the dust/dirt down when the game originated on dirt/clay courts. I was wrong: Google states the reason is twofold - the original process to make the balls was not perfect so the fuzz happened naturally and second, the fuzz is for technique with contact, whether it be speed of spin
J: To soften the impact when I inevitably miss it with my racquet and it hits me in the face.
A: It assists with the aerodynamics and bounce (thank you trivia nights!)
WHAT IS YOUR FAVORITE TV SHOW?
H: The Vampire Diaries
G: For the year 2020 it has to be Yellowstone
J: New Girl, Friends or Chuck
A: Oof...Peaky Blinders, Carnival Row or The Boys...for funny, Letterkenny or My Name is Earl.
ROOM, DESK, AND CAR - WHICH DO YOU CLEAN FIRST?
H: Definitely desk! Followed by my room and car
G: Car - gotta ride to McD all shined up!
J: Desk - I spend a majority of my time at my desk so that's what would drive me nuts first!
A: Desk, then room, then car...please do not judge me on my car!
IF YOU WERE A BRAND, WHAT WOULD BE YOUR MOTTO?
H: Measure twice, cut once
G: Designed Solutions, Extraordinary Results!
J: Never let the fear of striking out keep you from playing the game! (Borrowed this from Babe Ruth)
A: If you don't like it, change it. If you can't change it, change the way you think about it.
HOW WOULD YOU GET AN ELEPHANT INTO A REFRIGERATOR?
H: I would first compare the size of the elephant and the refrigerator. From there, come up with a plan depending on the size difference. To make things easy, I will assume we have a large meat locker fridge and small elephant so I would entice the elephant with some food to get it in the fridge!
G: Build the refrigerator around the elephant
J: Open the door and put the elephant in.
A: There is not enough information to accurately answer this question. If we are asking about the actual mammal the Elephant, and an actual refrigerator large enough to contain said Elephant, I would never...it's far too cold!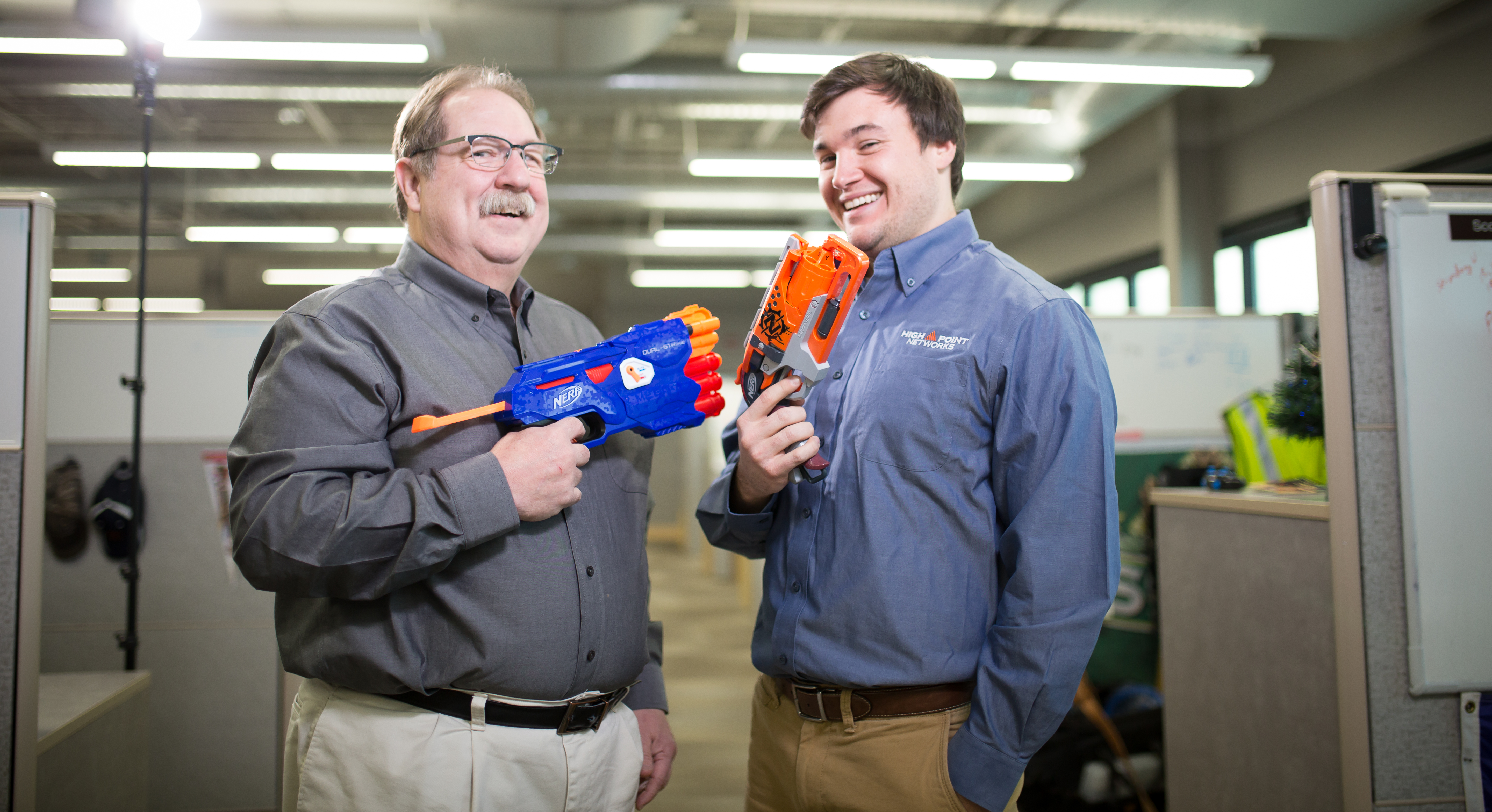 Join the #HPNTeam
If you or someone you know is interested in joining our team, head to our careers page to learn more about our open positions and what High Point Networks can do for you.