As of late July, 2020, we are excited to announce that we have expanded our service area to Lincoln and Omaha, Nebraska, as well as Southwest Iowa.
Expanding to this new territory gives High Point Networks a fantastic opportunity to create new relationships and extend our services to new organizations. "We've had our eye on the Nebraska/Iowa market for quite a while now, as we believe that it is a natural extension of our footprint", said High Point Networks Director of Sales, Andy Middlemiss. "After a few attempts to find something that makes sense, we finally have the opportunity to hire a seasoned Sales/Engineer team with long experience in the territory."
Finishing the Puzzle
The final step in completing the expansion was finding and adding new members to the #HPNteam. Both being Nebraska natives, Joel Rourke and Rusty Holiday were the final two pieces we were looking for as they have a great deal of knowledge and expertise and will fit perfectly into the family-like culture of High Point Networks.
WHAT IS YOUR HOMETOWN?
Joel: Cozad, NE
Rusty: Omaha, NE
WHERE DO YOU WORK FOR HPN?
J: Lincoln/Omaha, NE
R: Home office in Omaha, NE
WHERE DID YOU GO TO COLLEGE?
J: Lincoln School of Commerce
R: Art Institute of Phoenix & Bellevue University
WHO OR WHAT INSPIRES YOU?
J: Big goals
R: Clever design, music, gardening, and art
WHAT IS YOUR FAVORITE HOLIDAY? WHY?
J: Christmas - I love the rare occasion when the kids have nothing for a couple of days. I also love winter and the cold weather as well!
R: Courtney (Holiday), because she is my wife... otherwise it is the 4th of July because I love to watch my boys go crazy with fireworks, barbequing, and hanging out with family, friends, and neighbors.
HOW MANY TIMES A DAY DO A CLOCK'S HANDS OVERLAP?
J: 22 (thanks Google)
R: 22
WHAT IS YOUR FAVORITE PROFESSIONAL SPORTS TEAM?
J: Any of them that stand for the National Anthem!
R: The Philadelphia Eagles
IF YOUR LIFE WAS A MOVIE, WHAT GENRE WOULD IT BE?
J: Western
R: Some kind of Science Fiction Parody
WHERE DO YOU SEE YOURSELF IN 20 YEARS?
J: In the mountains!
R: On a SpaceX rocket to Mars for the weekend!
MOST IMPORTANT ITEM TO PACK WHEN GOING ON VACATION?
J: Family & Friends
R: Whenever you are traveling you must remember your towel...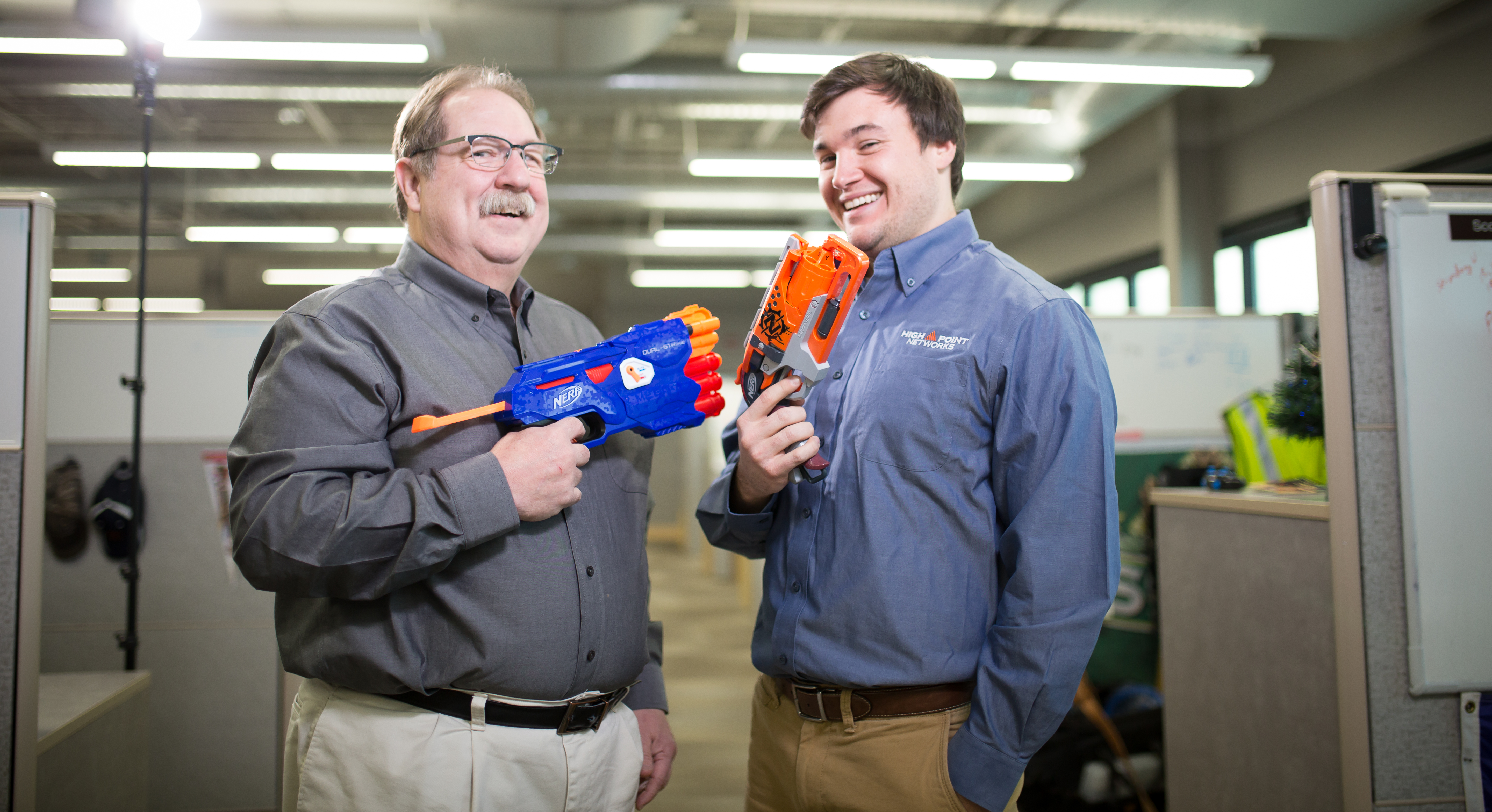 Join the #HPNTeam
If you or someone you know is interested in joining our team, head to our careers page to learn more about our open positions and what High Point Networks can do for you.