It's no secret that the recent Coronavirus outbreak has affected many (if not all) organizations in some way. The rising pandemic has caused a spike in businesses having to quickly transition to a remote working environment in an effort to follow safety guidelines and keep operations afloat. When rapid changes are made to an organization's IT environment, safety precautions can be overlooked and can increase your risk of cyber threats.
Protecting Your Assets
We've developed a variety of security options that are budget conscious and fit any size business. Our mission, during this difficult time, is to keep your organization informed and protected. The best thing we can do is work together, keep a level head and not allow the bad actors to take advantage of stress and urgency. If you've made changes to normal business activities, we've created a checklist of questions to help you evaluate your risk.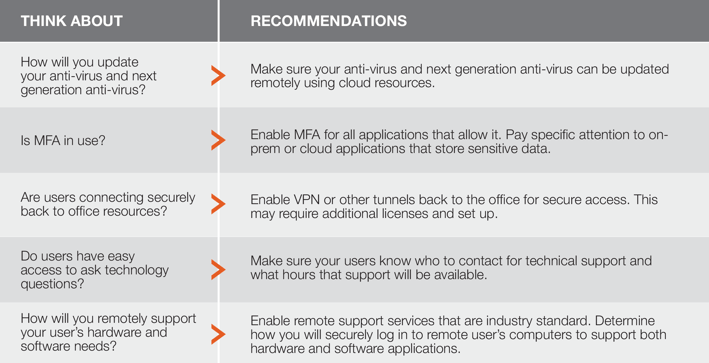 Full Remote Work Checklist | PDF
Need Additional Help?
If you would like to learn more about the options we have to help reduce your risk, please fill out the form below or give us a call (701-293-8300).