Each year, High Point Networks invests significant time in cultivating future talent through our internship program. We maintain close partnerships with many educational institutions within the communities we serve, many of whom are our customers. They are a key piece in providing a strong foundation for these students in their educational journey and specified area of study.
We give these students the opportunity to work side-by-side with our talented team members, contributing to real projects designed to better prepare them for achieving the career goals they've set for themselves. Our goal is to provide them with experience that can be used for years down the road.
Quadruple the Experience
This summer, we are fortunate to have four internship positions filled by some amazing individuals. Although they're the ones typically in the classroom, the group has taught us to challenge ourselves to continue learning and exploring creative new ways to solve problems.
WHAT IS YOUR HOMETOWN?
Cole: Prior Lake, MN
Sam: Pierre, SD
Lindsay: Dent, MN
Adam: Marshall, MN
WHAT HPN OFFICE DO YOU WORK IN?
C: West Fargo, ND
S: Sioux Falls, SD
L: Detroit Lakes, MN
A: Sioux Falls, SD
WHERE ARE YOU GOING TO COLLEGE?
C: North Dakota State University, Marketing & Sales
S: University of South Dakota, Marketing
L: *not a student intern
A: Dakota State University, Network Security & Administration
WHAT IS THE BEST ADVICE YOU HAVE GOTTEN?
C: Failure is something that comes with the process towards achieving greatness!
S: Give everything your best effort because you never know who's watching or if it will be your last time doing something
L: Everything is temporary
A: Just breathe.
HOW WOULD YOU DESCRIBE THE COLOR 'YELLOW' TO YOUR DOG?
C: Not exactly sure, but it would most likely involve a tennis ball
S: *Point to the sun*
L: I'm not one for talking to dogs
A: It's soft and warm
WHAT DO YOU ENJOY DOING IN YOUR FREE TIME?
C: Working out, spending time with friends, and challenging myself
S: Golfing, working out, and spending time with friends
L: Hanging out with my family
A: I enjoy going hiking and reading
WHAT ARE YOUR CAREER PLANS AFTER GRADUATION?
C: Hopefully working for High Point Networks
S: Graduate first, then see where the world takes me
L: *not a student intern
A: I'm not entirely sure, but I know I'd like to stay in the Sioux Falls area for a while
WHAT'S YOUR GO-TO SOLUTION FOR BEATING SLEEP DEPRIVATION?
C: Melatonin or Vodka
S: Melatonin
L: Drink ice water
A: Apples
IT'S MID-JULY AND YOU HAVE 30 MINUTES TO SELL A WINTER COAT IN FLORIDA. HOW DO YOU DO IT?
C: Explain features, advantages, and benefits of the coat. Then mention that the coat will be cheaper if bought now since demand is low
S: Rip the sleeves off the coat and call it 'the next designer trend'
L: Winter jackets make excellent cushions for sitting in the park, on the beach, or ball field bleachers
A: Find someone who is going on a trip somewhere that's cold
WHAT DO YOU LIKE MOST ABOUT WORKING AT HIGH POINT NETWORKS?
C: I like my fellow coworkers - they are very helpful and nice. I also like the professionalism and pride within the company!
S: The laid-back work environment and the employees make coming to work an enjoyable time
L: I love seeing that people like their jobs and are super comfortable in their work environment
A: The people I work with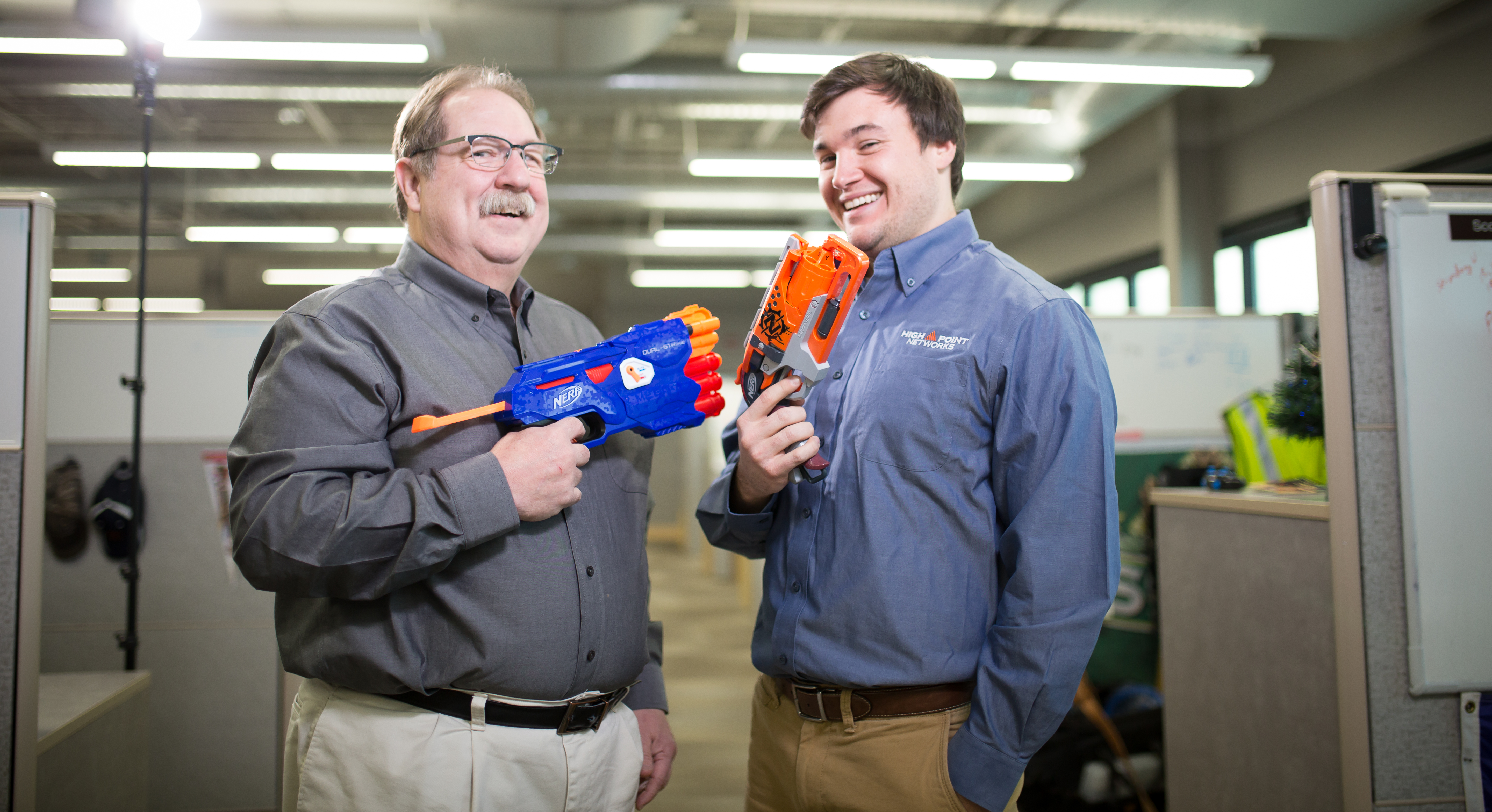 Join the #HPNTeam
If you or someone you know is interested in joining our team, head to our careers page to learn more about our open positions and what High Point Networks can do for you.